Samuel Dossou-Aworet (President /Chairman)
Samuel Dossou-Aworet was born in Porto Novo, Benin. He is the founder and chairman of the PETROLIN group, an international Pan-African oil, gas, energy and infrastructure company, founded in 1992.   The Petrolin Group is active in areas of trading, exploration and production, with offices in Capetown, Cotonou, Geneva and Libreville. It has operations and/or strategic interests in Central and West Africa (Nigeria, Gabon, Congo, DRC, Ivory Coast), in the Great Lakes region (Burundi, Malawi, Zambia) and in the Middle-East. Petrolin was an early investor in the South African telecom, MTN.
Mr. Dossou-Aworet is a petroleum engineer by training from the French Institute of Petroleum (1972) and is a highly-respected businessman who, for more than 40 years has played an active role in negotiating numerous lucrative oil deals.   Throughout his dynamic career, Mr. Dossou-Aworet has been entrusted with high-level positions such as Chairman of the OPEC Board of Governors and served as Strategic Advisor to many heads of state and international oil companies for more than 20 years.   General Manager of Hydrocarbons in Gabon for more than 15years.
Whether as a partner or consultant, Mr. Dossou-Aworet has provided strategic input in the development of prominent international oil companies and government entities, notably in Cameroon, Congo, Cote d'Ivoire, Democratic Republic of Congo, Equatorial Guinea, Gabon, Ghana, Nigeria.\, Namibia, Burundi, South Africa and Uganda.
In the area of infrastructure, the Backbone Project in West Africa is the brainchild of Mr. Dossou-Aworet, who is the creator and promoter.  The project includes the development of a Petroleum, Mineral And Commercial Port, (for which he has received a certificate of environmental and social impact fitness) the dry port of Parakou in Benin – which has just been completed, an international airport and the Cotonou-Parakou-Dosso-Niamey railway corridor (for which Mr. Dossou won the international tender)  to transport cargo and mineral ores to/from Benin and landlocked countries including Niger, Burkina Faso, Mali and Northern Nigeria. The project is covered by a comprehensive Framework Agreement which is now being fully actualized.  When completed this integrated infrastructure, project will impact the lives of over 350 million in the West African sub-region.
Mr. Dossou-Aworet has received many awards for his work in the oil industry as well as his many humanitarian endeavors.
Justin Chinyata (Vice President)
N. Justin Chinyanta is Chairman and Executive Officer of the Loita Group. He is a Barrister at Law with training from the Law Practice Institute of Zambia supported by a Bachelor's degree in law from the University of Zambia. Mr. Chinyanta is a specialist and an expert in the financial markets of eastern and southern Africa, with over twenty years of professional experience in commercial and investment banking in the region. Prior to forming Loita Holdings Corporation, he held senior positions with Citibank and HSBC Equator Bank in Africa.
Mr. Chinyanta sits on various Boards of private African corporations and NGOs as well as serves on Zambian Investment and Business Advisory Committee. He has been appointed on the Expert Roster of the United Nations Institute for the Training and Research for the Debt, Financial Management & Negotiation Programmes.
Mr. Chinyanta is also used as an expert resource by the Macro-economic Finance Management Institute, grouping 12 African countries and the African Export Import Bank. Justin Chinyanta is a fellow with Harvard University.
Aziz Dieye (Vice President)
Goodie Ibru (Vice President)
Alh. Dr. Bamanga Tukur (Grand Patron)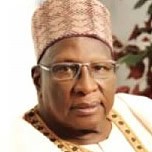 In 1959, he served as Executive Officer at the Ministry of Commerce and Industry in Northern Nigeria. He subsequently, attended the London School of Economics to study Transportation and Economics. In 1965, he received his Master's Degree in Public and International Affairs from the University of Pittsburgh. Upon his return to Nigeria, Alhaji Tukur was appointed Ports Manager of the Lagos Port Complex, and he served as the General Manager and Chief Executive of Nigerian Ports Authority from 1975 to 1982. In 1982, he left his position as general manager and soon contested the Gongola gubernatorial race, which he won.
Alhaji Tukur has held numerous national appointments in Nigeria, including the directorships of the Nigerian Railway Corporation, the Nigerian National Shipping Line, Nigeria Airways, Central Water Transportation Company and the Board of Customs and Exercise. Dr. Tukur is a member of the International Business Advisory Council (IBAC) of UNIDO and a member of the OECD Africa Investment Advisory Board. He was elected Chairman of the NEPAD Business Group in Monterrey, Mexico in March 2002. In the same year Mr Tukur was conferred with the National Honour of the Commander of the Order of the Mono (COM) by the President of Togo, His Excellency President Gnassingbe Eyadema, in recognition of his contribution to business in Africa. He was also appointed to the Ghana Investors Advisory Council by H.E. President John Agyekum Kuffuor in June 2002.
In December 2003, Mr Tukur was conferred with the National Honour of the Commander of the Order of the Niger (CON) by His Excellency, President Olusegun Obasanjo of Nigeria. He was once the governor of the old Gongola State, which encompassed Adamawa and Taraba States. He served as Governor for three months before the democratic administration was abridged by a military coup. After leaving the Gongola State House, he entered full scale entrepreneurship, and was the founder and chairman of BHI holdings (DADDO group of companies).
Dr. Bamanga Tukur was also a former member of the board of Trustees of the People's Democratic Party (PDP). He came to national attention in the mid 1970's, as the general manager of the Nigerian Ports Authority; it was a time the agency was having problems with congestion as a result of a massive cement importation scheme that was started at the twilight of Yakubu Gowon's administration. During his tenure, the government built a few more seaports to ease the transaction cost associated with shipping and to ensure adequate facilities for Nigeria's import and export needs. He was awarded CON in the Federal Republic of Nigeria, in the year 2003.
Dr Bamanga Tukur is presently the Chairman, NEPAD Business Group; Chairman, BHI Holdings Limited; Chairman, Afripractice Group and Executive President of African Business Roundtable.
David Govera
Prof. Cornelius Kogbe
Amina Gerba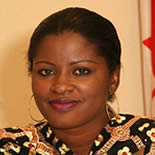 Amina GERBA is an Entrepreneur considered as a model of leadership and dynamism in the business sphere in Quebec. She is the Founder of Afrique Expansion and President on Kariliss Laboratories. Mrs Gerba arrived in Canada in 1986 and obtained a Bachelor in Tourism Management (Marketing major), followed by a Master in Business Administration (MBA) in 1993. Between 1993 and 1995, she was employed by several Canadian companies to develop their business in Africa.
She launched her line of organic shea butter–based cosmetics in 1998, under the brand name Kariderm. Kariderm products are now available at over 400 sales points throughout Canada, the United States and Africa. In ten years, the aforementioned association of shea butter producers went from 20 to more than 2,000 employees.
Meanwhile, her growing awareness of the lack of media coverage for the African market lead to the founding of Afrique Expansion Magazine. This quarterly magazine is an international economic review of North/South business and partnership. Since its founding in 1998, it has become an authority for decision-makers and investors interested in Africa. Sensing that the best way to foster business relationships is for communities to get to know each other, she lauched, in 2003, Forum Africa, a biannual platform for bringing together Africans and Canadians investors and decision makers. Previous editions of the Forum—in 2003, 2005, 2007 and 2009—have attracted hundreds of business, government and afforded them an excellent opportunity to build valuable business relationships and partnership.
In February 2010, as part of Black History Month, Mrs. Gerba was the recipient of an award marking her outstanding contribution to the field of business in Quebec. She has also been a winner of the Entrepreneur of the Year in 2010, by the African Business Network. Mrs. Gerba sits on several boards (Fonds Afro-entrepreneurs, the Canadian Council on Africa, and the African Business RoundTable). Since 2009, Mrs. Gerba has been appointed as Governor of the "Femmes Essor Montréal".
Dr. Reuben Jaja
Khady Fall Tall
Cama Monsour
Eniola Fadayomi
Sylvia Aquereburu
Abdoulie Toure