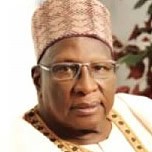 In 1959, he served as Executive Officer at the Ministry of Commerce and Industry in Northern Nigeria. He subsequently, attended the London School of Economics to study Transportation and Economics. In 1965, he received his Master's Degree in Public and International Affairs from the University of Pittsburgh. Upon his return to Nigeria, Alhaji Tukur was appointed Ports Manager of the Lagos Port Complex, and he served as the General Manager and Chief Executive of Nigerian Ports Authority from 1975 to 1982. In 1982, he left his position as general manager and soon contested the Gongola gubernatorial race, which he won.
Alhaji Tukur has held numerous national appointments in Nigeria, including the directorships of the Nigerian Railway Corporation, the Nigerian National Shipping Line, Nigeria Airways, Central Water Transportation Company and the Board of Customs and Exercise. Dr. Tukur is a member of the International Business Advisory Council (IBAC) of UNIDO and a member of the OECD Africa Investment Advisory Board. He was elected Chairman of the NEPAD Business Group in Monterrey, Mexico in March 2002. In the same year Mr Tukur was conferred with the National Honour of the Commander of the Order of the Mono (COM) by the President of Togo, His Excellency President Gnassingbe Eyadema, in recognition of his contribution to business in Africa. He was also appointed to the Ghana Investors Advisory Council by H.E. President John Agyekum Kuffuor in June 2002.
In December 2003, Mr Tukur was conferred with the National Honour of the Commander of the Order of the Niger (CON) by His Excellency, President Olusegun Obasanjo of Nigeria. He was once the governor of the old Gongola State, which encompassed Adamawa and Taraba States. He served as Governor for three months before the democratic administration was abridged by a military coup. After leaving the Gongola State House, he entered full scale entrepreneurship, and was the founder and chairman of BHI holdings (DADDO group of companies).
Dr. Bamanga Tukur was also a former member of the board of Trustees of the People's Democratic Party (PDP). He came to national attention in the mid 1970's, as the general manager of the Nigerian Ports Authority; it was a time the agency was having problems with congestion as a result of a massive cement importation scheme that was started at the twilight of Yakubu Gowon's administration. During his tenure, the government built a few more seaports to ease the transaction cost associated with shipping and to ensure adequate facilities for Nigeria's import and export needs. He was awarded CON in the Federal Republic of Nigeria, in the year 2003.
Dr Bamanga Tukur is presently the Chairman, NEPAD Business Group; Chairman, BHI Holdings Limited; Chairman, Afripractice Group and Executive President of African Business Roundtable.