AFRICA INVESTMENT SUMMIT
September 25, 2019 @ 8:00 am

-

September 26, 2019 @ 5:00 pm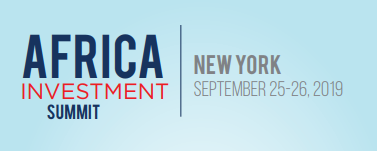 Africa Investment Summit in the margins of the United Nations General Assembly, 25-26 September, 2019 New York, USA
Holding as part of the Africa Investment Summit, under the theme: "Unlocking Investment Opportunities in African Markets'', this programme is structured to focus a global beam of attention on opportunities for international investment partnerships in the African economy, particularly now that global markets are confronted with challenges of epic proportions.
The African Investment Summit 2019 is designed to put Nigeria's economy at the center stage of global conversation at a time country leaders and top policy makers from across the globe and corporate leaders from around the world will be in New York for the United Nations General Assembly. This High level programme therefore presents to you, a unique platform to address and engage the international community, many of whom are eager to hear about opportunities in Nigeria in order to build development partnerships.
Indeed, the Africa Investment Summit 2019 will highlight the immense development, humanitarian and business opportunities in Nigeria to a global audience of Heads of State and Government, Policy Makers, Investors and Country delegations to the United Nations General Assembly. Notable speakers at previous events include Former American President, George W. Bush, Former British Prime Minister, Tony Blair and the 66th US Secretary of State, Condoleezza Rice. A host of leaders in politics and business from across the globe have also attended and addressed the summit.
The event will attract world leaders and over 1000 business leaders from some of the largest corporations from across the globe. Members of leading policy think-tanks and businesses in the United States as well as business leaders and policy makers from across who will be in New York for UNGA will also participate in the event this year. In addition, plans are underway to broadcast the event proceedings to millions across the globe by the international media – print, electronic and online.
This programme will send a positive signal to international community about the workability of the safety nets and other social intervention policies put in place by the Government of Niger State to help the poorest of the poor and galvanize international support to scale them up.
This high-level event will be designed to shape the international economic agenda at the highest level, and it will be expedient if you will graciously agree to lead this effort by sharing with the gathering, your thoughts and the perspectives on Children's education, health, empowerment and innovation and the prospect of increasing international inflows into those sectors. This programme promises to increase investor's confidence and boost Nigeria's investment drive. It will also jumpstart the economy on a higher gear and accelerates Nigeria's momentum on the development drive.
Please send an email to abrwestafrica2@gmail.com or info@abrwestafrica.org for participation and sponsorship.
Venue: UN Building Policy Room & Grand Hayatt Hotel, 25 – 26 September respectively.
Time: 8am -5pm
DOWNLOAD >> AFRICA INVESTMENT SUBMIT BROCHURE